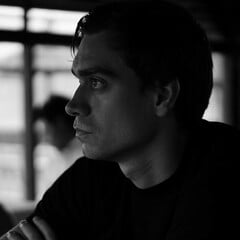 Lucas Örström
Concept Artist & Illustrator
Stockholm, Sweden
About
Concept artist and Illustrator, with experience in project pitching and general visual development.
Proficient in Photoshop, Zbrush, Maya, and Keyshot. Knowledge of creating game ready 3D assets and concept designs. Background in industrial design, currently working at Arrowhead game studios.
Skills
Concept Art
Illustration
3D Modeling
Concept Design
Sketching
IP Development
Software proficiency

Blender

Keyshot

Maya

Photoshop
Unreal Engine

ZBrush

Marvelous Designer

Quixel Suite
Experience
Clients include:

- Paizo

- Ulisses Spiele

- Inversion Studio

- Nowhere Studio

- Various Private clients and 3rd party

Focus on IP and pitch development, as well as production concepts and illustrations. Responsible for creating environment, character, UI, vehicle, props and other concepts for the production team.

Branding and IP development for various project pitches. Characters and environment concepts, n game screen concept mockups, UI, menu, logotype concept designs and marketing illustrations.